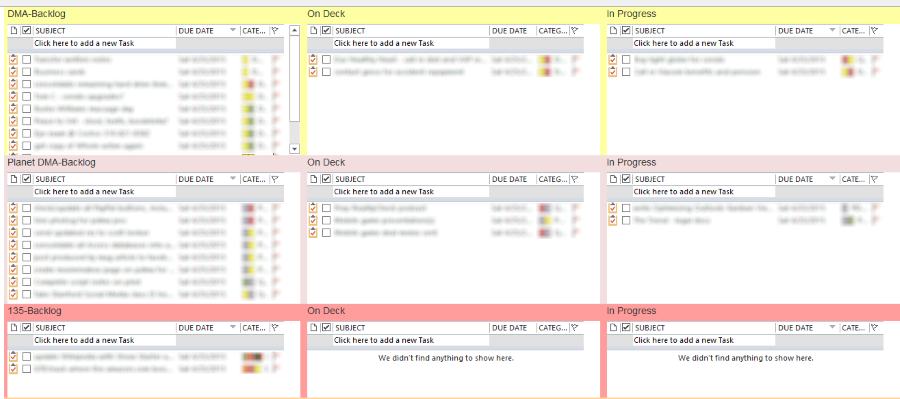 If you're still using Outlook just for emails (or using your overflowing inbox as a makeshift reminder system), you can optimize Outlook for project management by adding a Kanban view to the Tasks pane.
What is Kanban? If you haven't yet heard of "Kanban" (or "Taylor Swift"…or "kale salad"), very simply put, it's a project management approach where you post cards representing all of a project's tasks on a board. That board is divided into columns for each stage of execution (e.g., To Do, In Progress, Done). As you tackle each card, you move it right, into its current stage, or "state."
You can easily track multiple projects' tasks on a single Kanban board by creating a new row, or "swimlane," per project.
Pronunciation. To avoid the whole "GHIF vs. JIF" grammarian violence, here's how you pronounce this awesome To Do system:
Kanban Software.
Our CTO switched our digital development board to Kanban a few  years ago, and I LOVE IT. We use one of the many third-party, cloud-based solutions, and I built a Sharepoint-based Kanban board for staffers at another company. One popular project management tool, Trello, is Kanban-made-pretty. But for my slew of personal projects, I wanted an easier, dare I say,
leaner
solution.
Personal Kanban.
I wanted…a PERSONAL KANBAN BOARD. On my HOME COMPUTER. Using OUTLOOK. Because all of my emails and calendar appointments and tasks already live in Outlook, and it's not
speedy
or
efficient
to duplicate tasks to a third-party software when I'm the only one responsible for them.
The search.
Two months of intermittent searching yielded only a clean Outlook plugin requiring Exchange Server and a beautiful, complex SaaS that took my tasks with it if I canceled my subscription. I finally pieced together hints and hacks from:
Yes. über-blogger
Jan Fischbach
coded a POMODORO TIMER into his OUTLOOK TASK VIEW. Game on!
The Solution. Okay, this is where the non-Lean/Agile/Six Sigma readers sign off, so I hope you enjoyed the message and the memes and are off to "Bingle" Kanban boards. Everyone who is ready right now to bliss out their Task View, please read my  detailed "Part 2 of 2" for a step-by-step post on to "How to Create a Three-Column Kanban Task View, with Swimlanes, in Outlook."