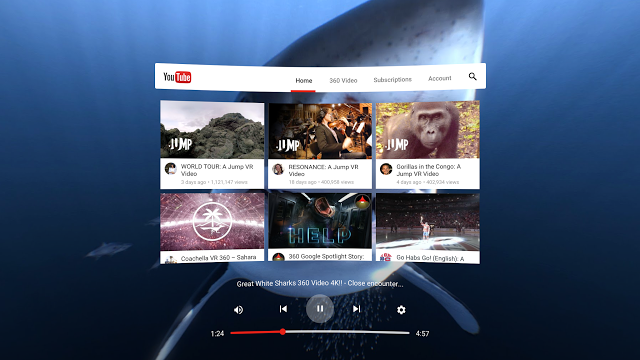 I went to #nerdprom again this year (Google I/O Extended, yesterday in Silicon Beach), and, clearly, it's time for a brief update on the virtual reality explosion! If you are a producer or production company and keep hearing about VR, but aren't sure how to take next steps, this post is for you.
STEP 1—Understand what VR vs 360 content is. Simply put, virtual reality is content the viewer experiences from a first-person point of view (see my VR 101 post from last year for more details). While the terms "VR" and "360" often are used interchangeably, they actually describe different types of immersive content. VR experiences are digitally created (e.g., games or apps), while 360 is live-action content, filmed with special camera set ups that allow 360 views. Here's an example of "VR" versus "360" roller coaster rides:
VR – watch the right side of the split screen to see the incredible artificial worlds the riders are immersed in. With a VR viewer, you could turn your head to see what's behind you, on the side, etc:
360 – this is a filmed experience of a real ride. With a VR viewer, you still could turn your head to see what's behind you, on the side, etc.
VR and 360 are different techniques, but both are immersive content experiences.
STEP 2—Assemble your VR gear/tools.  Here's what you'll need:
ENTRY LEVEL
A smart phone. This is what you'll use to access VR content.
A VR viewer. This holds your smart phone and properly displays VR content. You can buy assorted Google Cardboard viewers, order next-level and company-customized Unofficial Cardboards and explore other viewers online, too, such as the Samsung Gear VR viewer and, yes, even Mattel's View-Master® VR viewer (yes, THAT View-Master®!).
NERD LEVEL 10.0
A high-powered gaming PC, high-end VR headset and compatible gaming hardware. Simply put, VR headsets like the Oculus Rift or HTC Vive are powered by your PC (instead of a smart phone) and let you game, watch movies and otherwise shred your social calendar. But we're sticking to the basics in this post!
STEP 3—Watch VR content. Virtual reality content is available everywhere already. Quality varies greatly, so be ready to explore.
Download VR apps. The free "Google Cardboard" app on iOS and Android has a series of VR shorts to explore (including "Google Earth" in VR and my favorite, "Arctic Journey: Fly").
Visit YouTube's VR channel. These are mostly 360 videos, but they're great fun and will help you brainstorm your own possibilities.
Google I/O tip: when you watch VR content on YouTube on your smart phone, there's now a "cardboard" menu icon for instant VR mode!

Get ready to Daydream… Yesterday's Google I/O also broke the news of their upcoming Daydream VR platform, including a dedicated YouTube VR app (curating the "world's largest collection of VR videos") and a higher end Daydream VR headset.
STEP 4—Make your own test content.  To start, you don't have to hire developers to create a VR app or buy 360 camera rigs to shoot a movie! First, you can just use your smartphone and cardboard to create sample 360 experiences. In Android, just download the free Google Cardboard Camera app and turn in a full circle as you snap your shot (it captures audio, too). Now…where does your imagination take you relative to your own creative projects?
What VR and 360 experiences could you produce for your existing scripts and shows…or for travel clients…or for  hospitality, health and education?
STEP 5—Add a "VR mode" to your own development cycle. Make VR and 360 possibilities a permanent part of all of your content development conversations. Just as digital and social content has become a crucial component of our creative work, always explore how an immersive experience can further connect your audiences to your content and brand. Then start seeking partners who can develop VR apps and games for you or start producing 360 videos yourself!