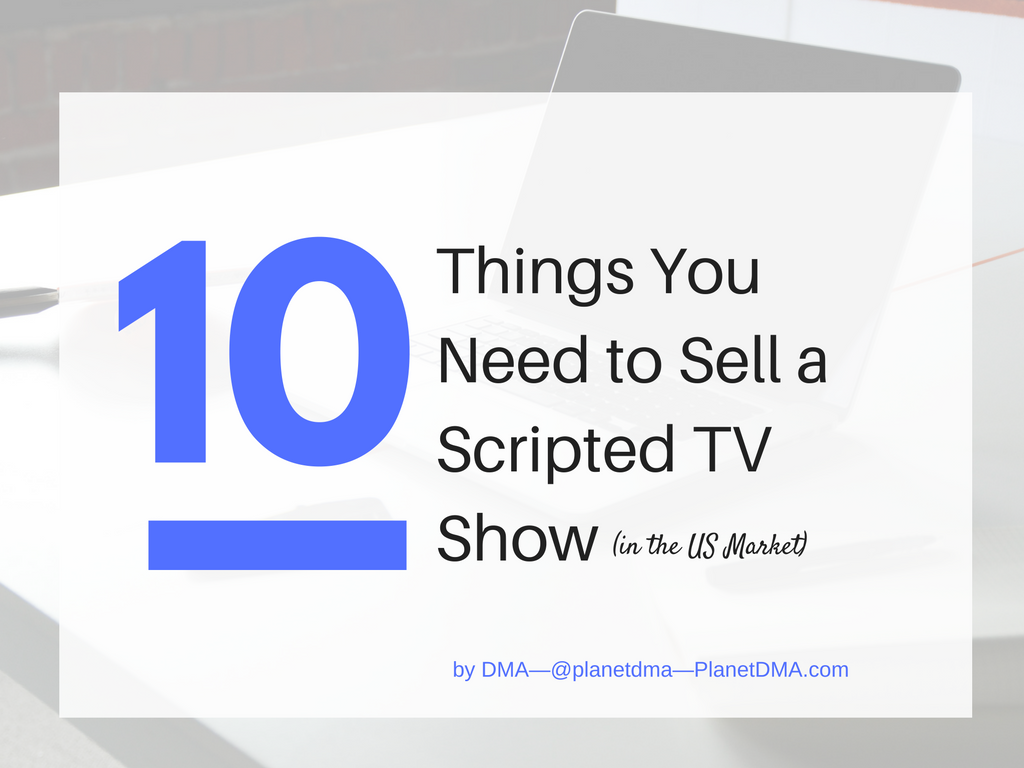 I recently was asked "What are the criteria for getting a TV concept/show picked up in the U.S.?" If you're shopping a sitcom or drama here in the States, start with these 10 things:
An attorney. If you are writing with a partner or incorporating someone else's story or work, don't type a word until a formal deal is executed. (I almost want to require a copy of the agreement before letting anyone read the next nine steps…)
An extraordinary pilot. Not a "good enough" script, but a truly exceptional read, as assessed by professionals in our field. Great pilots have all of the mission critical elements of story and structure ("conflict," "stakes," "jeopardy," etc.—I spell this all out in Write It, Pitch It, Sell Your Screenplay). You'll also need the "glue" that keeps your main character connected to the conflict for 100+ episodes. IMPORTANT! A pilot isn't a series of plotless introductions of your characters and setting—it must be an actual episode, with a real story and resolution, that also sets up the entire show. Extraordinarily. (See great pilot episodes on our Recommended Reading+Viewing page!)
A story-advancing character guide. Does your Main Character's description include her/his main flaw and central value? Do the secondary characters clearly create diverse layers of conflict for the Main Character? Are physical descriptions limited to those that advance story? When I read it, do I see all of the story possibilities tumbling off of the page?
A stellar pitch. In less than five minutes (a couple of paragraphs), passionately unveil the first episode so I clearly understand this flawed Main Character and how her/his core conflict in the new world and the secondary characters will create great, organic stories for years to come. Your pitch is its own, independent creative project; dedicate considerable time to crafting and practicing it. Once completed, this also will serve as a pilot synopsis.
Season 1 episode loglines. List and describe 10-13 episodes for S1 to show how you will grow your story and characters and conflict. Remember, each episode must arc, and the season itself must arc for your main character!
Seasons 2-5 loglines. List and summarize the overall arc for the next four seasons to show how you will grow your story and characters and conflict. Remember, the overall arc of the series must arc for your main character, too.
Attachments/Elements. If any IP (intellectual property) or other person, place or thing is required for your show to be shot, summarize this. For instance, if it is based on a book or on someone's life story, indicate the precise legal rights you've acquired.
Screenwriting Software. Trust me. Buy Final Draft, and just focus on writing, not industry-standard formatting. (Shameless plug—my 1-3-5 System was the first story structure system integrated into their software; turn on scene cards, and you can map out your script for structural soundness.)
Access to buyers. While agents are the number one path to networks, production companies and other buyers, they are the hardest route if you aren't already a working writer. Place extra emphasis on insider writing competitions and fellowships (see our Deadline Calendar for online group members) that can get you read and connected without needing a rep.
A budget. Allocate or save up for an attorney to draft and review your deal(s), scriptwriting software, submission fees, copies and postage (yes, sometimes you will have to mail hard copies!), and perhaps even time off from your job to focus on writing. At minimum, save up $500 before you begin this process so you can immediately say "Yes!" to introductions or opportunities with costs and fast-approaching deadlines.
Notice what isn't listed here is "a produced pilot." That's not your responsibility for most buyers. That extraordinary pilot script is going to go through a lot of changes, or "development," if it is bought. The cameras come well after that.
If you're currently shopping or have sold a scripted TV show here in the States, your additional thoughts are very welcome! dma
---
DMA is an executive consultant, speaker & author in media and technology and a delightful mix of Penny, Sheldon and Leonard. Sharing links are below!