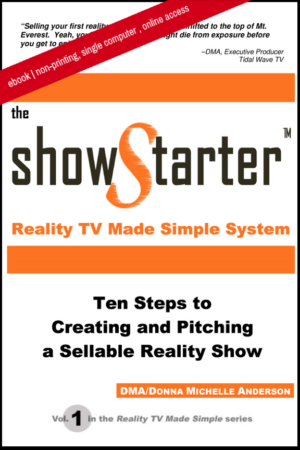 The Show Starter Reality TV Made Simple System [ebook]
The Show Starter Reality TV Made Simple System: Ten Steps to Creating and Pitching a Sellable Reality Show [ebook]
Are you ready to sell your own reality TV show? Reality TV showrunner-turned-executive DMA's book is the industry bible for show creators and development executives alike. With straightforward guidance through crafting original content, attaching talent, ballparking a budget and pitching to the right partners, Show Starter, Vol. 1 is a one-of-a-kind roadmap for anyone who hopes to make a career in reality TV or create a sellable reality show.
Note: The ebook is non-printing, for a single computer, and requires online access
Our ebooks are served from a third-party site; please allow up to 8 hours to receive your activation notice. We apologize for this inconvenience while we switch ebook solutions!
Product Description
#DMA is #briliant!!!! I highly recommend @planetdma for #screenwriters and such to check out. Her classes this weekend in #LA were #fantastically #real and #informative. omg when I come back, I hope to see her speak again.

Thank you for The Show Starter "Reality TV Made Simple System" book. My wife and I are in a very good place w/ our show. Thanks to you and your book. We're almost done w/ our final edits and nailing our pitch. Carl D.
Only logged in customers who have purchased this product may leave a review.