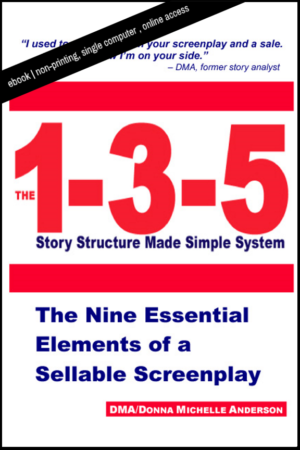 The 1-3-5 Story Structure Made Simple System [ebook]
The 1-3-5 Story Structure Made Simple System: The Nine Essential Elements of a Sellable Screenplay (ebook)
**The new edition of The 1-3-5 book is out! Order "Write It, Pitch It, Sell Your Screenplay" in hard copy and, now, Amazon Kindle! For a limited time, we will make a digital version of our original story structure book available on our site, too.
Are you ready to sell or rewrite your screenplay or film? Former story analyst DMA used to stand between you and a sale, but now she's on your side! This streamlined blueprint for writing and shopping a film clearly walks you through unifying theme, character and spine to create a structurally sound script that can get past the "gatekeepers" at production companies and studios.
Note: The ebook is non-printing, for a single computer, and requires online access
Our ebooks are served from a third-party site; please allow up to 8 hours to receive your activation notice. We apologize for this inconvenience while we switch ebook solutions!
Product Description
#DMA is #briliant!!!! I highly recommend @planetdma for #screenwriters and such to check out. Her classes this weekend in #LA were #fantastically #real and #informative. omg when I come back, I hope to see her speak again.

Thank you for The Show Starter "Reality TV Made Simple System" book. My wife and I are in a very good place w/ our show. Thanks to you and your book. We're almost done w/ our final edits and nailing our pitch. Carl D.
Only logged in customers who have purchased this product may leave a review.